Jackie Robinson is a sports and civil rights icon. A statue of the man born in Cairo, Ga., but raised in Pasadena, Calif., has been erected in eight sites throughout America, and a local group of men and women, known collectively as the Bullpen, is moving full speed ahead to erect a ninth, in Youngstown. It would be the first in Ohio.
The genesis of this effort is a gesture by a Youngstown native that many take for granted today, but it was a monumental moment in our nation's struggle with its greatest sin: slavery that led to systemic racism.
On April 18, 1946, Robinson was playing for the Brooklyn Dodgers minor league affiliate, the Montreal Royals, in a game against the team from Jersey City, N.J. In his second at bat, Robinson hit the first home run by a black man in a then all-white baseball organization. Two of Robinson's teammates were on base at the time. They scurried around the bases and went to the dugout, refusing to wait at home plate to congratulate Robinson, a longstanding tradition in baseball.
George Shuba, who grew up on Youngstown's West Side, was the on-deck hitter. He noticed the snub by the other players, so when Robinson rounded third base and headed to home plate, Shuba extended his hand with a smile and shook his teammate's hand — the first black-white home run handshake in the U.S. It has been called "The Handshake of the Century."
Shuba had played sports with black youngsters growing up in the city, so it was not a big deal to him to shake Robinson's hand. As Shuba would say when asked about the handshake, "Our teammate hit a home run, and I shook his hand." He did not realize the major significance of that seminal moment.
When I was approached by Tony Paglia, Bullpen member, friend and colleague at The Vindicator (Tony had been my immediate boss for a time), asking if I wanted to be on the fundraising committee and serve as a co-chairman, I immediately accepted.
Growing up, my parents made sure I knew the history of three black men who broke down stereotypes of black inferiority to whites: Jesse Owens, an Ohio State University grad, who won four gold medals at the 1936 Olympics; heavyweight boxing champion Joe Louis, who defeated Max Schmeling in 1938; and Robinson breaking baseball's color barrier in 1947, when he played his first game for the Dodgers that April 15.
Most people know about the 1947 date, but many did not know about that handshake in New Jersey or Shuba's role in history.
At the suggestion of Lou Zona, director of the prestigious Butler Institute of American Art, the committee spoke with Marc Mellon, one of America's foremost representational sculptors and medalists, well-known for his portrait busts and commemorative statues. He was fascinated with the story of the handshake, and agreed to use his talents to bring the statue to fruition.
With the sculptor on board, the task of raising the $400,000 for the project began.
Thanks to the efforts of Eric Planey, former vice president of international business attraction for the Youngstown/Warren Regional Chamber and now director of a New York City leveraged finance group, and Mike Shuba of Youngstown, George's son, the word got out about this project that would show racial reconciliation is possible. Joining me as co-chairmen are Greg Gulas, former sports information director for Youngstown State University who wrote a book about George's minor and major league baseball career and his friendship with Robinson, and Herb Williams, local businessman, entrepreneur, and a former MLB player with the Oakland Athletics."
The committee raised nearly $100,000 before the end of 2019, thanks to donations from several foundations. Then, the COVID-19 pandemic hit early this year. Fundraising stopped as the country focused on staying healthy and fighting a virus that has killed nearly a quarter of a million people nationwide and infected millions more worldwide.
But in the summer, as states began reopening their economies, some people also began opening their wallets, especially after the tragic death of George Floyd in Minnesota, and the subsequent demonstrations calling attention anew to the plight of black Americans in this country. It now made more sense to support a bronze statue that would show that the races can co-exist in "the land of the free and the home of the brave." The committee has now raised $220,000 of the $400,000 goal, again thanks to foundations supporting the project. But there also have been small and large donations from several people, black and white, who appreciate what the statue represents. If all continues to go well, the statue will be dedicated on April 18, 2021, the 75th anniversary of the handshake. It will be located in Wean Park in downtown Youngstown. The park is located between the Covelli Centre and the Youngstown Foundation Amphitheatre.
It will serve as a reminder to generations of area young people that racial harmony is not a pipe dream, but something every American should be striving for. And it was all made possible because a Youngstown man simply extended his hand to his fellow man.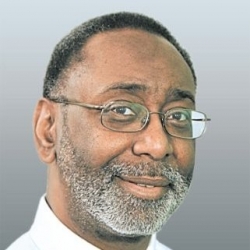 Latest posts by Ernie Brown Jr.
(see all)